CHROMODEX - New Work Available
Chromodex is a collection of vintage Rolodex sculptures filled with hundreds of small paintings, creating unique gradients of color. Give them a spin! For sale inquiries, contact ben@benjaminlarose.com
Benjamin Larose newly named Assistant Professor of Fashion Design at School of the Art Institute of Chicago
"Benjamin sees fashion as a 'dynamic platform' that defines the interdisciplinary approach in his work to 'sculpture with the DNA of fashion'. Garment construction (in)forms his methodology, and allows for seamless overlap with our conceptual and technical electives and core courses. Benjamin demonstrates a broad aptitude to expand out from fashion into related artistic arenas, as well as to connect back to its basics: techniques, methodologies, tools, and methods. In addition, Benjamin Larose has a profound investment in teaching, having completed a graduate certificate in pedagogy at the post-secondary level"
- Katrin Schnabl, Associate Professor and Sage-Endowed Chair of Fashion
Benjamin Larose named among Breakout Artists 2019
by NewCity Magazine
Each spring, when thawed bulbs burst forth from the soil with their exuberant and ill-informed joy for a precocious summer, the writers of Newcity Art match the spirit of the season by profiling a few of the artists who represent the unbounded energy of art-making in Chicago. They make Chicago compelling, complex and worth being a resident and a viewer of art. They challenge us and bring us the questions we never dared to ask and might not want to engage. And they are but a few among many who are doing just the same.
To read the full article, click here!
SQUALL at John Michael Kohler Art Center (March 23 - September 15, 2019)
Squall will be on view as part of The Autotopographers, a group exhibition at the John Michael Kohler Art Center in Sheboygan Michigan, from March 23 until September 15, 2019.
Scroll down to watch a video excerpt from the performance and an interview with the Benjamin.
Photo: James Prinz
Sauver les meubles at EXPO Chicago (September 27 - 30, 2018)
The Chicago Artists Coalition will feature Benjamin Larose's latest exhibition Sauver les meubles at EXPO Chicago 2018. The artist was selected by Anastasia Karpova Tinari, Director of Rhona Hoffman Gallery. Benjamin Larose will be in dialogue with Anastasia September 30, 2:30 - 3:00 pm, in Booth #174. A written interview is also available in here.
THE PROMISE at 6018|NORTH (September 3, 2018 - March 31, 2019)
The Promise will be on display as part of Living Architecture, a group exhibition at 6018|NORTH. Living Architecture is a large-scale, multidisciplinary exhibition that highlights the influence and impact of immigrant artists on Chicago. A review by Sabrina Greig is available here.
The New Printmakers Collection: Limited edition screenprint available for sale
Spudnik Press Cooperative and the Chicago Artists Coalition are thrilled to announce the second year of their project The New Printmakers Collection. The program is designed to offer collectors a portfolio of prints by three artists on the rise. The artists invited to participate are new to printmaking, and all are former residents of CAC's BOLT or HATCH programs. This year's artists include Benjamin Larose, Caroline Liu , and Roni Packer.
For more information, please visit
SAIC Alumni Feature: An Interview with Benjamin Larose
Benjamin Larose (MDes '16), a French-Canadian artist and collector, is always looking to build cultural bridges: between himself and the city of Chicago, fashion and sculpture, or between ideas of mass consumption and individual personal identity. After entering a contemporary art-driven world of fashion through film and photography, Larose found the interdisciplinary nature of the School of the Art Institute of Chicago to be a perfect backdrop for creating what he describes as "sculpture with a fashion DNA."
To read the full interview, click here.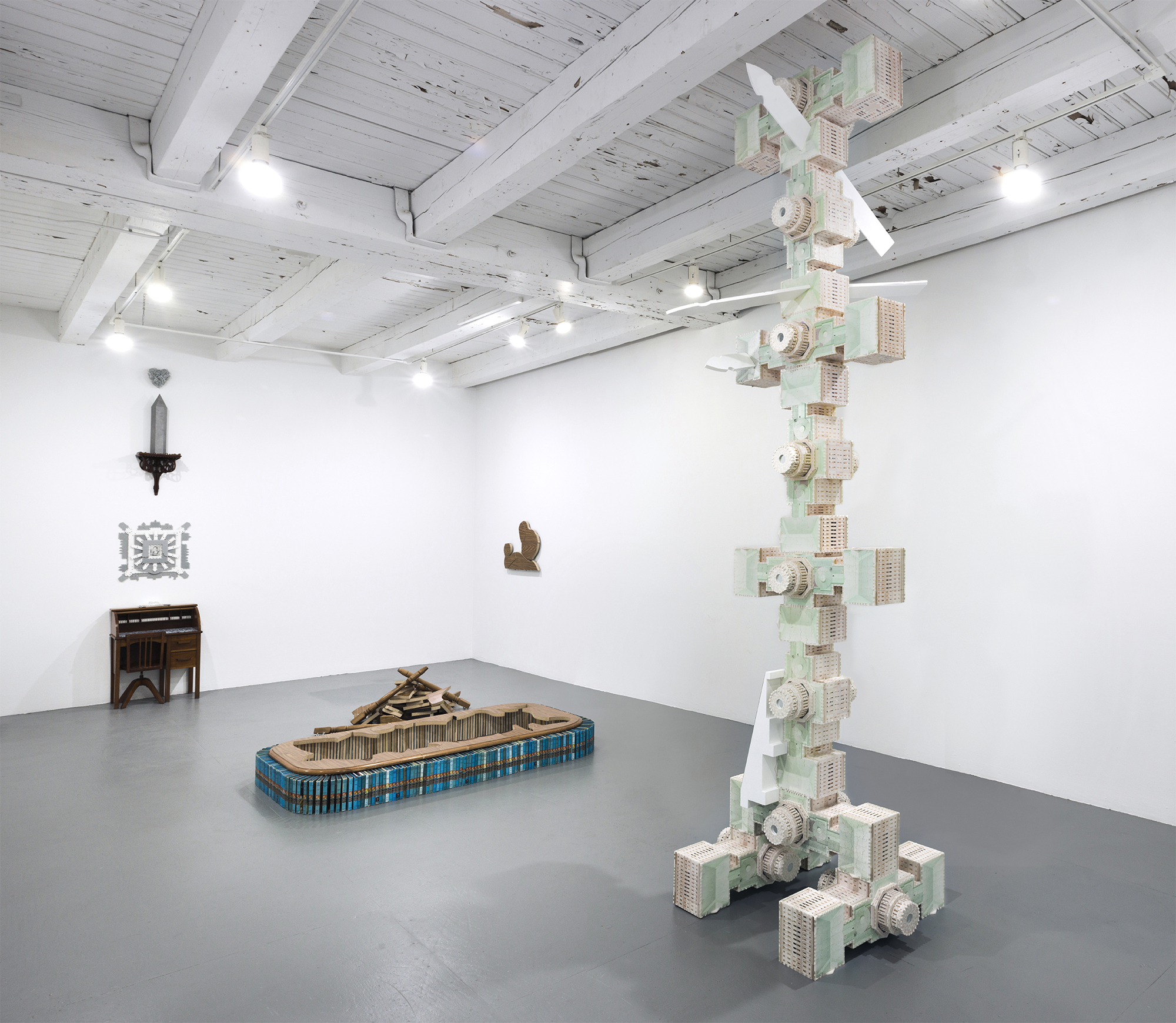 DOT YOUR i's WITH HEARTS at Chicago Artists Coalition (April 27 - May 17 2018)
The Chicago Artists Coalition is pleased to announce Dot your i's with Hearts, a solo exhibition by BOLT artist-in-residence Benjamin Larose. Dot your i's with Hearts presents a new body of sculpture work that explores boyhood and family using tens of thousands of puzzle pieces. Opening reception: April 27, 2018, 6:00 - 9:00pm.
Benjamin Larose's work Baby Step featured in Fields Magazine's autumn/winter 2017 edition
Benjamin Larose
recipient of the RumChata Foundation Fellowship
"The first ever RumChata Foundation Post-Graduate Fellowship for Fashion Design was presented recently as part of the School of the Art Institute of Chicago's annual fashion exhibition. The $20,000 fellowship was presented to Benjamin Larose and will allow him to continue his fashion design work professionally beyond his Master of Design graduate studies. The RumChata Foundation introduced the award to celebrate the passion and drive it takes to create and bring to life an idea that started from one's imagination and vision."
- Industry Spotlight, The Tasting Panel Magazine, August 2016